Gresham Landscape Design and Build
Landscape Construction Services for Gresham, Oregon
The act of enclosing a space and cultivating life in it implies strength, hope, optimism, a sense of community and the will to be the best possible version of ourselves
Drake's 7 Dees is passionate about Gresham landscape design and installation. For our landscape designers, the form and function of your outdoor space is about more than appearance or making a financial investment – it's about having a great time with the people in your life. We specialize in building outdoor spaces for living, laughing, and making countless memories with friends and family.
Drake's 7 Dees has everything you need to transform your outdoor space, all under one roof:
When you have Drake's 7 Dees working with you as your landscape design and installation company, you know that you have someone who will be with you every step of the way.
Why Drake's 7 Dees Design and Build
Based in Portland, Drake's 7 Dees is a full-service landscape design and build company for Gresham, Oregon. We take your landscaping dreams from initial concept through to final completion. This means you spend less time coordinating between designers, contractors, and sub-contractors, and more time enjoying the excellent results.
Your time is precious. Our design & build model establishes a smoother, more enjoyable process and strong client-contractor teamwork, delivering a superior end-product. It's an approach that many people don't imagine, but it works!
Just as an artist does more than cover a canvas with paint, Drake's 7 Dees' design-first mentality means that we approach each landscaping project with artistic creativity, budget knowledge, and intentional design. Over six decades of experience ensure that all this creativity is wrapped in confident professionalism.
Your yard is an influential part of your home. Improving it optimizes your enjoyment, resale value, and entertainment potential. Whatever your reason, we'd be honored to serve you. Call or email us today.
Licensed Landscape Designers and Building Structure Architects
Drake's landscape design and build is unique in the Gresham area and perhaps in the entire Pacific Northwest in that certain members of our staff are licensed architects. What does this mean for you? If your landscape remodel and renovation will involve any of the following:
Garden Room
Covered Outdoor Structure
Home addition
Home remodel
French Doors
Sunroom
Pool house
Shed or other outbuilding
there is no need to find or work with a separate architect or builder to complete the project. Projects requiring an architect, engineer, or building permits can be developed by Drake's Gresham architects and landscape designers along with the rest of your property, keeping the design process simple and fast.
Get the FREE Drake's 7 Dees 2021 Landscape Design Guide
Drake's 7 Dees 2021 Design Guide is the product of over six decades of landscape design and construction in popular Portland neighborhoods and beyond. It's a must-read for anyone thinking of redoing or upgrading their landscape. Get the download and be ready to get inspired! Then contact Drake's 7 Dees to find out how we can transform your landscape.
Selected Landscape Design and Build Work
What Our Clients Say about Drake's 7 Dees Gresham Landscape Design and Build Services
The yard looks wonderful. Beautiful design and the guys did a great job with installation of the irrigation system and plantings. … Thanks again for the timely updates and reminders. I'm super impressed with the whole experience! – Liz
Drake and his team always go above and beyond for their customers! Their communication is exceptional, and they always listen to every question and inquiry carefully and completely. I especially appreciate their expertise and desire in wanting to make sure their customers are a part of the process, and happy with the job that is done, working with you every step of the way. They are always professional and have that unique personal touch where you always know how much they genuinely care, which I feel is a hard thing to find these days. Cannot recommend highly enough! – Alyssa
Our designer…did a wonderful job converting our narrow backyard into additional living space for our home. He created from what was once an awkwardly spaced area, a beautiful, serene, and welcoming space that our family now enjoys. He worked with us on our project to hear what rough ideas we had, reimagined them and brought them to life with this project. The final product was better than we had imagined. – Eugene
We worked with Tim and team and couldn't be happier with the end result! We felt every worry, concern, or design question/potential change was heard and addressed both professionally and with personal insight from the team. No question felt too stupid to ask and I'd say we very much enjoyed the process along the way. Thanks so much Tim & Team! – Kelsey
We landscaped our front lawn (900 sq ft) for our daughter's wedding. We were very pleased how the project was completed on time and beautifully designed. We added an iron moon gate as the arbor and were very pleased with the hardscape (brick stairs) going up to the arbor. The project manager and workers were very professional and easy to work with. – Char
After doing quite a lot of research, I settled on Drake's 7 Dees to manage our landscaping project. I liked their portfolio online as well as the positive reviews and reputation for solid service. I actually went to the office in person to speak with someone and was very pleased by how friendly and personable everyone was….Overall, I was thrilled with the process and overjoyed with the results. We get compliments from all of our guests on how charming our yard is! – Lora
Selected Components of a Gresham Landscape Design
Our clients come to us both when they're looking to do a complete renovation of their outdoor living space and when they're looking to add an individual feature to their property that will complement their outdoor experience.
Decks
Particularly on sloped ground, decks provide the ideal place to gather. But designing and constructing a deck that looks great and lasts with minimal maintenance is a job for a professional with access to the latest in deck material options. Talk to us to learn what we can do to build an excellent deck space for your backyard.
Driveways
Just because a driveway is a necessity doesn't mean it can't be beautiful. Whether you choose a concrete driveway, a driveway made using stone or eco-friendly pavers, or some other material, our Gresham landscape designers will make sure it adds to the overall image of your property. You may not want to park your car on your driveway so you can see it more completely! And with any driveway Drake's 7 Dees creates, we artfully incorporate select landscape and hardscape elements to make sure it blends well with the rest of your property both now and well into the future.
Fences
Fences are an important part of landscape design as a frame for plants, grass, flower beds, and other features. They also stand out as the structure in your landscape that your neighbors will most be exposed to. For these reasons, fences should be constructed to provide privacy and borders in a pleasing way that works not only with the rest of your landscape but with the style of your neighborhood.
Fire Pits and Fireplaces
At Drake's 7 Dees, our landscape designers do what they do to provide a place for you to gather with your friends and family and have a great time in the process. Outdoor fire pits and fireplaces provide the focal point for these moments. Whether you're looking for the simple operation and maintenance of gas or the classic feel of a real wood fire pit – or if the fireplace is the focal point of your landscape or an add-on feature to an outdoor kitchen or pool, our team designs and builds outdoor fire pits and fireplaces that are safe, beautiful, and seamlessly integrated.
Gardens
Many of our clients like to create a space that not only looks good but is fruitful as well. Our landscape design team will find ways to incorporate garden space into any yard. You aren't limited to the typical vegetable garden, either. Consider what your property will look like with fruit trees, an herb garden, a flower garden, or any combination! The only limitation to what you can have is your space.
Hot Tubs
Hot tubs and outdoor spas are simple to maintain and fun to use year-round. With Drake's 7 Dees you aren't limited to an out-of-the-box hot tub experience. Our hot tub designers and installation subcontractors work together to develop a hot tub experience that will provide a relaxing space whether you're seeking solitude or time together.
Lighting
When many homeowners imagine their landscape, one of the last things that comes to mind is what it looks like when it's dark. Yet that is a crucial detail that >Drake's 7 Dees Gresham landscape design and build team looks at. Much of the opportunity you have to enjoy your landscape will come after the sun has set – make the most of it by having proper lighting for your outdoor space that highlights your design features and lets people enjoy outdoor living at all hours. Of course, we ensure that our lighting is both warm and energy-efficient so you're not worried about the cost of keeping the lights on.
Outdoor Kitchens
A landscape design feature which has recently gained traction are outdoor kitchens. Installing a kitchen outdoors allows hosts to participate with the group and enjoy the outdoors even as they are getting things ready, while simultaneously taking your barbeque to the next level. If you enjoy cooking and the outdoors, consider an outdoor kitchen as a possible part of your landscape design project.
Outdoor Living Rooms
Outdoor living spaces provide the opportunity for enjoyment of fresh air year-round in the Pacific Northwest. Often featuring comforts such as outdoor furniture, overhead lighting, television, and a fireplace or other heating solution, outdoor living rooms are the perfect place to gather to eat a meal, watch a game, or be the focal point of a party.
Patios
For those who have the space, patios are a focal point for gathering and relaxing in the backyard. When it comes to patios, there are many options to think through, from the materials and colors used to construct the patio itself, to the accompanying landscape and hardscape features. Materials used include carefully installed pavers, eco-friendly pavers, or concrete to create a thoroughly integrated outdoor environment. It's more than just laying down bricks. Contact our team of experienced patio designers for more information.
Pergolas
Something of a mix between a gazebo and an arbor, pergolas are an excellent choice for a modern backyard design incorporating privacy and shade with openness and airflow. The Gresham landscape design and build team at Drake's 7 Dees will create a pergola to meet the aesthetic and practical needs of your space. If you are looking for a pergola, arbor, gazebo, or another structure more to your liking, talk to us!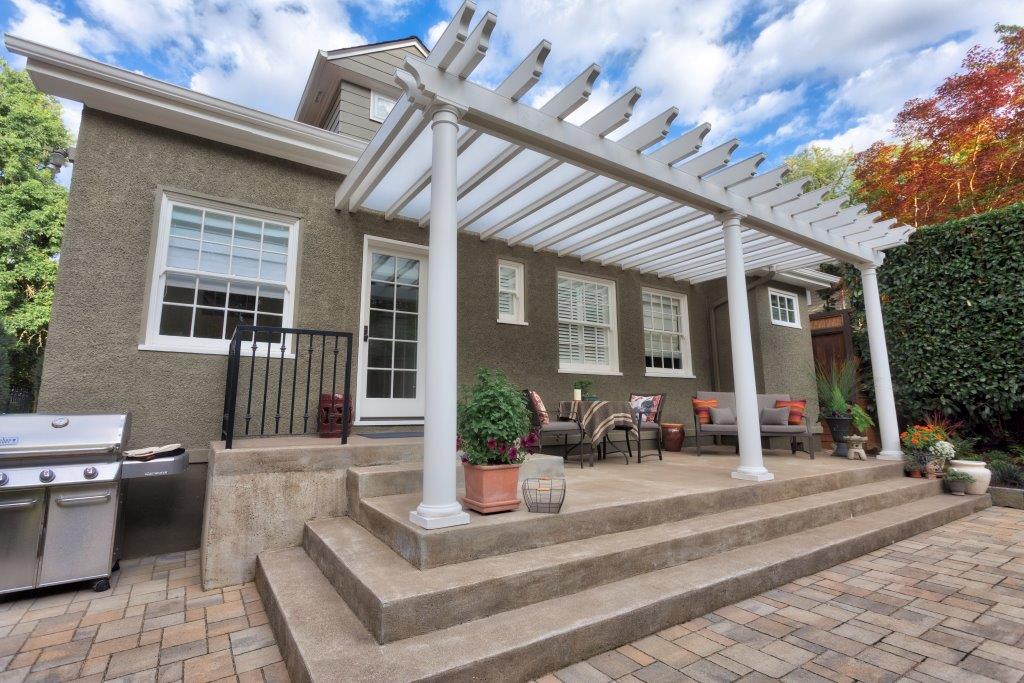 Ponds
A pond is a tranquil feature which adds value and appeal to any space. Ponds are often designed in conjunction with other features such as waterfalls and fountains, and can be made to support fish such as koi. Your landscape designer at Drake's 7 Dees will work with you to figure out what will work best for your backyard.
Pools
If you are looking for a safe, beautiful pool installation for your backyard, look no further than your Gresham landscape design and build team at Drake's 7 Dees. We work with a team of trusted subcontractors to ensure that your pool is installed exactly as it's designed and integrate it with the rest of your landscape.
Retaining Walls
Adding walls to your landscape creates level open spaces including terraces and gathering areas, which is essential to all good landscape design. Retaining walls can be built using a variety of different materials, from boulders to bricks. Each of the different material selection options produces different visual results and is suited for different styles of landscape design.
Beyond design, construction technique is extremely important to the longevity of your retaining walls. Hiring a Gresham landscape design and build team with the experience and background to know what they're doing is vital.
Sports Courts
Relaxing with family and friends – or by yourself – doesn't always mean sitting and talking. It can also involve all kinds of recreation. If a particular sport is popular in your circles, installing a backyard sports court could be a great option for bringing people together or improving your skills. We can design and install a top-level basketball court, tennis court, volleyball court, badminton court, bocce ball court, giant chess board, and more.
Putting Greens
Have you been looking for a way to improve your short game without having to head to the local golf course? Consider building a custom putting green in your own backyard, complete with all the challenges that will help you to unwind and improve your technique.
Water Features
Running water adds value and a peaceful feel to any back or front yard. For long-term functionality and to bring the design that's in your mind to life, use the professionals at Drake's 7 Dees. Types of water features the team at Drake's 7 Dees commonly designs and installs include fountains, bubblers, waterfalls, and koi ponds. Contact us for more details.
Yards
The lawn is a critical part to most backyard environments, providing space for games and kids of all ages to run around, in addition to looking great. Our landscape installation team sets you up with an easy-to-maintain lawn that is lush and green right from the start, ensuring your grass is planted in ideal soil for long-term success. And when your lawn needs a tune-up, our private gardener and irrigation maintenance services are here to help.
Our proprietary Four Season Lawn installation technique is especially of interest to families with soccer players or just plain active kids who love to play outside spring, summer fall and winter. These lawns are great for four-legged friends too allowing use without getting their paws muddy.
Get the FREE Drake's 7 Dees 2021 Landscape Design Guide
Drake's 7 Dees 2021 Design Guide is the product of over six decades of landscape design and construction in popular Portland neighborhoods and beyond. It's a must-read for anyone thinking of redoing or upgrading their landscape. Get the download and be ready to get inspired! Then contact Drake's 7 Dees to find out how we can transform your landscape.
Drake's 7 Dees Gresham Landscape Design and Build Process
You may be thinking "I like what I see, but I want to know more about how Drake's 7 Dees helps me get there." Continue reading to learn more about how our Gresham landscape design and build process works from start to finish.
A Design Associate from Drake's 7 Dees will meet with you at your home to discuss your landscape goals. Based upon the extent of your landscape desires, the Design Associate will present a 'Design Proposal' that represents the number of 'design hours' required to produce a set of detailed Landscape Plans specific to your property.
Conceptual Landscape Plan & Preliminary Budget Review
During a 'working meeting' at Drake's 7 Dees office (or phone conference) the Designer will present a Conceptual Landscape Plan based on your input from the Site Analysis meeting. An illustrated 'plan view' of your property will be presented which incorporates your stated landscape goals. You will be able to see in concrete ways what your landscape is going to look like when we're done. Construction material selections will also be discussed and chosen at this time. A 'Statement of Values' will provide preliminary construction costs for the various elements of the Landscape Plan. As a working meeting, this will be the time for your input to help us craft a plan for your home's landscaping that meets both your aesthetic and budget objectives.
Landscape Plan Presentation & Construction Proposal
A final Design Meeting will be scheduled with the Senior Designer to present the revised Landscape Plan and an itemized Construction Proposal for the installation of your new landscape. Modifications to the 'scope of services' presented in the Construction Proposal can be accomplished at this time. Your approval of the Landscape Plan and your Signature on the Construction Proposal will give Drake's 7 Dees the 'thumbs up' to schedule the transformation of your landscape.
Our team of experienced landscape construction professionals brings your plan to life. We take great pride in making sure our work is completed quickly, expertly, and with minimal disruption for our clients. We want you to have a good experience before, during, and after your landscape renovation.
Gresham Landscape Design and Build Q&A
Is there a difference between Drake's 7 Dees landscape design and build and what other landscape designers offer?
Drake's is different because while we are Gresham landscape designers, we are more than that – which we why we call our service "design and build."
Companies that offer only landscape design services will develop plans for a space and sell those plans so that they can be applied by a landscaping contractor. The drawbacks to this approach include:
Designers sometimes do not take into account or even know the costs associated with making their work a reality. As a result, thousands of dollars may be spent devising plans which are not buildable within a reasonable budget. Our designers, on the other hand, collaborate with the contractors on staff at Drake's 7 Dees in order to make sure that every design comes in within the target budget.
When a separate landscape designer and construction contractor must be engaged, clients are responsible for finding each service provider and learning to work with each. Our system works to minimize the impact on our customers so they can spend more time enjoying the results. Our focus is on delivering to our clients.
What does Drake's 7 Dees charge for landscape design?
Most of our landscape projects are design driven start with our professional design services. For our design and build clients we charge $80 per hour. For clients who require design but not build services the cost is $160 per hour.
Is there a cost for the first meeting?
The first meeting Is complementary. We set a time that is good for you and encourage all interested family members to attend. The meeting usually takes between one and two hours. This is a time to get to know each other and to listen to your vision and expectations for your outdoor spaces. To spend the needed time together is very important in that this conversation sets up the launching pad we will use to apply our experience and creativity to develop your custom design.
Can I hire Drake's 7 Dees to design and install a single feature in my yard?
Absolutely. We want our design clients to know that any feature we design and construct, we will also spend time to aesthetically meld it into the rest of the property. This may involve planting beds, trees, or installing other hardscape and landscape features so everything works together. We don't leave until we know that we've done the job right.
What kind of experience does the team at Drake's 7 Dees have at landscape design and construction?
Our core team has been together a very long time, eleven years on average. This kind of comradery and experience is unique within the Gresham landscape design and build industry. This advantage separates us from the others in our industry and allows Drake's to create an excellent customer experience.
Do you serve commercial as well as residential properties?
We are available to provide landscape design and landscape construction services to commercial clients. We will ensure that the services provided for all our commercial and residential clients are always of the highest level, and that the results are of excellent quality.
Is there a difference in the way you plan landscaping for the front yard as opposed to the back?
Our approach is somewhat different. We believe that the backyard can and should be unique and personal and play to your family's taste and style – few others will enjoy it, so it's yours to make as you please. When it comes to the front yard, more attention should be paid to providing pride of ownership, respectful of the neighborhood and your neighbors, and add to the home's value and street appeal.
What is your approach to budgeting driven by landscaping projects?
Our passion and focus in the work we do is creating a landscape that celebrates relationships. Gardens, patios, covered areas, walkways, and beautiful plantings create the backdrop for strengthening family ties, making new friends, and staying connected with old friends. Helping clients balance the design and installation of the landscape with the budget that's right for them is one of our core responsibilities. Because we are a design and build company we are able to bring the "budget" along with the "design" each step of the way. We never want people to spend more than they should on their landscaping, so they have more to spend on their relationships.
How do you plan which plants should be placed in a landscape environment?
Besides appearance and growth characteristics, we pay particular attention to getting the soil right. Rather than applying general soil treatments, we test the earth in a lab and apply amendments by specific prescription. This maximizes plant health and beauty and minimizes plant failure.
We also choose plants that are most successful in the Pacific Northwest and relatively easy to care for. We want your landscape to last and be good for your family – not a burden on your time.
Do you use different styles of landscape design? For instance, can you design a landscape in a Japanese style?
Yes, absolutely. We have experience with several different design schemes and the flexibility to adapt to whatever our clients are looking for. We have significant experience with most landscape designs styles including Pacific Northwest, Asian, Japanese, European, Mediterranean – Drake (the owner) is president-elect on the board of the Portland Japanese Garden. Check out our
design guide
to see some examples of the scope of our work and to get ideas for your own property.
Drake's 7 Dees is a Landscape Contractor for Gresham, Oregon